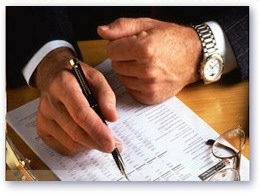 Rogers County Abstract - Closing Services
(previously Land Title Closing)

You can rest assured that RCA's years of experience in closing residential and commercial sales are second to none. Our customers and their business is our focus - period. Rogers County Abstract's long-standing history in Rogers County cannot be compared by any other closing service. We have a wide array of services to benefit you in your time of selling or buying.

Escrow Service - An escrow provides assurance that no funds or property will change hands until all mutually agrees upon instructions for your transaction have been followed and completed. The escrow agent is obligated to protect all funds and documents while in his/her possession and disburse only when all conditions of the escrow have been achieved. Closing or settlement papers are then delivered. All of our services are provided in a secure and arbitrary fashion.

1031 Like-Kind Exchange - The 1031 Exchange is a way of structuring a sale on certain properties to defer taxes of the seller's profits or gains to a future date. Of course, an attorney is needed for questions or legal advice pertaining to the validity of the 1031 Exchange. Take confidence in knowing LTC escrow agents can act as a qualified intermediaries for this exchange is one example of the many services we provide.

Title Insurance - Title insurance differs from most types of insurance in that the premium for an owner's title policy is paid for only one time, usually at closing, yet its protection exist as long as you or your heirs retain an interest in the property. For most of us, purchasing real estate may very well be the biggest investment we will ever make. Many of us understand the need for hazard insurance to protect against fire, storms or theft. However, defects in the title of your home may pose a much greater risk to your investment. Examples of hidden defects to title might be fraud or forgeries on documents like a deed or will, defective conveyances of property or clerical errors, or even a missing heir may claim title to property that supersedes your right to title. An owner's title policy protects and defends your investment if any claims, valid or not, are made against your property, all of this at no additional cost to you. It makes sense to protect your investment and peace of mind from these various types of risk. Lenders require title insurance to protect their interest in your property; likewise, an owner's title policy will protect your interest.

Questions? - If you have any questions, or would like to request a quote, please contact our closing department.